@seon shared this a lil' while back and I can't stop thinking about it, send help: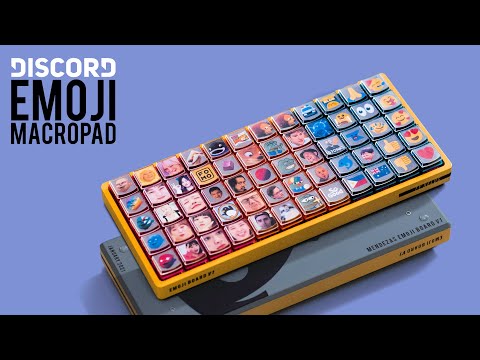 I want it and I want it but I don't need it BUT I want it.
I mean, I want to build something similar, taking an ortholinear keeb and converting all of its keys to Discord emoji macros. Been looking at the NIU Mini because upcoming KBDfans CNY discounts, but also at the XD75 and ID75. Basically any ortholinear keeb that supports QMK firmware.
NIU Mini would be an interesting project:
EZPZ Part: Would give me an excuse to invest in a soldering kit (so far I've been coasting by on hot-swappable PCBs).
Butt Pain Part: Need to figure out how to create QMK macro scripts. Simple text strings should be easy. I just… need to learn the scripting part. From scratch. F-f-f-f-f-f-f-eeeeeeeeeehhhck-k-ck-ck-ck-ck.
Other Tater Tots n' Considerations
I'm convinced I can't do the macro part in AutoHotkey (not that I even know how to do it in the first place ), because – if I understand it correctly – AutoHotkey takes a single key and applies its hotkey macro whenever the key is pressed. Example: If I map something to the Tilde key, that map will be applied whenever I press the Tilde on both Keeb 1 and Keeb 2. I want the macro to execute only when I press keys on the ortholinear keeb.
I dinkered around with the QMK Configurator (NIU Mini) for a bit, and I thiiink I might need to write the QMK thingy m'self, if I want custom macro strings. Shiiiiiiiiiimata (しまった).
Theoretically, I can flash whatever QMK .JSON-IDK-thingymajigy onto just the ortholinear keeb, and retain normal keeb functionality on my other keebs. Theoretically, because I haven't tried it yet.
Theoretically

#2

, the flashed keeb should retain its macro keymap even after I unplug the keeb from the PC. Hopefully.
Yes, I have 3 keebs and 1 macropad/numpad. Thing is, two of those keebs (R2-968, MGK64) as well as the macropad don't support QMK firmware (AFAIK?), and the only one that does is the Eighty #391, WHICH I AM NOT CONVERTING TO A MEME MACHINE (). Also, none of the keebs are in a nice and neat ortholinear layout.
TLDR: I'm talking outta my butt, IDK what's going on. Brain, stop making me want things, FFS.
---
Edit: Wellp. Currently no ortholinear boards with high-profile silver cases (that I want/feel confident in) in stock. Friggity frack.
Also, just discovered that the NIU Mini, XD75, and ID75 are seemingly supported by VIA firmware as well. Iiiiiiiiiinteresting…